Complete Car Repair Shop Reseda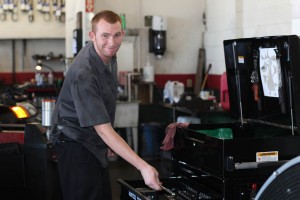 High Octane Automotive provides full service auto repair for foreign and domestic cars, SUV's and light trucks in Reseda, CA..  Our auto repair shop near Reseda, CA with our highly qualified automotive technicians, broad range of repair equipment and resources, and experience can provide just about every automotive repair or maintenance you may need.
Here is a short list of the items we can help with:
Engine Repair, Replacement or Overhaul in Reseda, CA

Right here in our Reseda Auto Repair Shop, we have the facilities, the experience and the equipment to properly service any engine problem up to and including complete engine replacements.

Complex to Simple Electrical Diagnostics & Repairs In Reseda, CA

Our Automotive Service Technicians have the skill, experience and equipment to troubleshoot and repair even the most complex automotive electrical system diagnostic and repairs. Our Reseda ASE Certified and Master Technicians use the latest service methodology and equipment. We take advantage of the network of Internet resources dedicated to improving troubleshooting, decreasing repair times, and increasing accuracy.

Clutch & Manual Transmission Repairs Reseda, CA

When your clutch is wearing down and you need an adjustment or complete clutch and flywheel replacement for your manual transmission vehicle, we are your experts. We have a great amount of experience for all vehicles, including your performance cars.

Automatic Transmission Repair, Rebuilding and Replacement in Reseda, CA

Here at High Octane Automotive, we provide complete Automatic Transmission services from routine adjustments and servicing to the most complex troubleshooting and complete replacements.

Air Conditioning Service and Repairs In Reseda, CA

Air Conditioning repairs and service is one of our specialties. We provide the full range of air conditioning and heater service from simple diagnostics and recharging of the refrigerant (aka Freon) to complex diagnostics, troubleshooting and repairs.

Suspension, Axle, 4WD Diagnostics and Repairs in Reseda, CA

Our team of ASE Certified and Master Technicians in Reseda, CA have tackled many challenging suspension repairs and upgrades. We can handle just about any job big or small.

Power Steering System Service and Repairs

Today's Power Steering Systems can be challenging to service for many auto repair shops. However, at High Octane Automotive, we have the experience, training and equipment needed to troubleshoot your Power Steering System and provide the expert repairs needed.