Electrical Diagnostics Specialists Chatsworth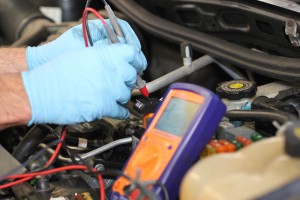 Few auto repair shops in the Chatsworth area provide qualified electrical system diagnostics.  However, High Octane Automotive is a specialist in Electrical diagnostics and can even find and fix problems other shops fail to find.
For Automotive Electrical, Experience is Very Important
At High Octane Automotive in Chatsworth area , we have the necessary experience to get electrical troubleshooting right the first time.  We have faced down even the most complex electrical problem successfully.  We are staffed with ASE Certified and ASE Master Technicians that know electrical systems very well.
Electrical Troubleshooting Resources & Equipment In Chatsworth, CA
To troubleshoot today's vehicles, it not enough to have the experience, you need the right tools of the trade.  We have invested heavily into numerous resources and pieces of equipment that allow us to correctly and quickly get down to the problem of your automotive electrical system problems.
When it comes to automotive electrical repairs  in Chatsworth CA,
you can rely on High Octane Automotive!